Trade Shows & Global News
The new Quadro Disc from Evers Agro is a versatile disc injector for grain fields, grassland and arable land. It uses a sharp single disc which ensures the slurry to go straight to the roots of the crops. Hence, nutrient loss through emission is kept to a minimum. The Quadro Disc combines a large working width of up to 1...
Read more
Wednesday, 1 November 2023
Staying within the tractor axle load requirements has prompted many manufacturers to rejig their power harrow drill offering. Kverneland can now be added to that list with the Rotago 4000 which can be partnered with an equally new rear coulter tool bar.One of the new Kverneland machines heading to Agritechnica this month...
Read more
Wednesday, 1 November 2023
The 300 Pro small drum and 400 Pro large drum maize headers are the latest offering from Kemper.These have a number of new features to prevent cobs getting stuck between the drum as well as improved maintenance. A heavy duty kit which makes use of Hardox steel should extend the service life of the drum and skids.The 400 ...
Read more
Tuesday, 31 October 2023
There has been no easing off the gas at Horsch since the last Agritechnica as the machinery maker will have several new cultivators, drills, planters, sprayers, mechanical hoes and a precision fertiliser spreader on the stand at this year's show.Starting with cultivators, in order to fit a knife roller, levelling board...
Read more
Tuesday, 31 October 2023
Kuhn Farm Machinery has added the first folding models to the HR 1030 R power harrow range. The company has also extended its mechanical combination seed drill range with the Sitera 100 series.Starting with power harrows, the HR 5030 R (5m) and HR 6030 R (6m), the new flagship models in the range, are suitable for tracto...
Read more
Monday, 30 October 2023
Köckerling will expand its Allrounder Flatline and Eco Allrounder cultivator ranges at Agritechnica. There is also a new narrow point on the Ultima CS no-till drill.The 500 (5.0m) is the latest model to join the Allrounder Flatline shallow cultivator range. Added to the existing 600, 750 and 900, with the 220mm wide goo...
Read more
Thursday, 26 October 2023
Fendt has chosen Apollo Tyres' Vredestein VF Traxion Optimall as original equipment (OE) for its new range of Fendt 700 Gen7 tractors. The Fendt Vario 720, 722, 724, 726 and 728 tractors are available with the combination VF 710/70 R 42 & VF 600/70 R 30 Traxion Optimall. Additional sizes will follow soon.
Guido B...
Read more
Thursday, 26 October 2023
Czech manufacturer Bednar has added a 14.4m model to the Swifterdisc XE Mega range. The newcomer joins the 18.4m machine which recently set a new cultivation record.Like the flagship 18.4m model and 16.4m version, the Swifterdisc XE 14400 Mega, which is designed for 500-550hphp tractors, is available with two types of di...
Read more
Thursday, 26 October 2023
A BlackBird slurry applicator with a variable working width of 21m to 30m is the latest innovation from Vogelsang.To alter the working width, various sections can be unfolded or remain tucked in. All the operator has to do is select the desired width on the in-cab terminal and the machine does the rest, including alterin...
Read more
Thursday, 26 October 2023
There has been a lot of changes to the Amazone sprayer line-up, with tweaks to existing models and new additions. For instance, the Pantera 4504 is now joined by the 7004 with a nominal capacity of 6,600-litres.Like the 4,500l version which is now adorned with the latest Claas supplied cab, the big self-propelled shares ...
Read more
Wednesday, 25 October 2023
Organic manure is a fantastic nutrient source, but efficient and precise application can be challenging due to its natural variations. Even when mixing it up really well, there's still room for improvement. That's where an Near Infrared Spectroscopy (NIRS) sensor can step in to make the most of organic manure.
...
Read more
Wednesday, 25 October 2023
New Holland will launch the pre-production version of its T7.270 Methane Power LNG (Liquified Natural Gas) tractor at Agritechnica. Production of the first models is expected to start at the Basildon plant in the second half of 2024.We outlined some of the spec a year ago when the methane powered T7 broke cover as a pro...
Read more
Wednesday, 25 October 2023
The main talking point on the Profi III Gen 2 slurry tanker is the self-priming high-capacity centrifugal pump. Developed in-house, the self-contained system does not require an additional vacuum or rotary lobe pump which Kaweco says results in low wear and tear.In developing the second generation machine, the company lo...
Read more
Tuesday, 24 October 2023
Daedong's HX tractor and DH6135 combine, both of which have autonomous operational functions equivalent to level-3 autonomous driving for agricultural machinery, have passed the national testing in Korea for autonomous driving (straight and turning maneuvers).
According to government standards in Korea, autonomou...
Read more
Tuesday, 24 October 2023
The self-propelled autonomous AURA mixer from Kuhn is the next generation of automated ration distribution solutions for dairy and fattening operations. With its built-in loading module, the AURA is offering a whole range of functions, including loading, weighing, mixing, distribution, fodder push-back and reports on com...
Read more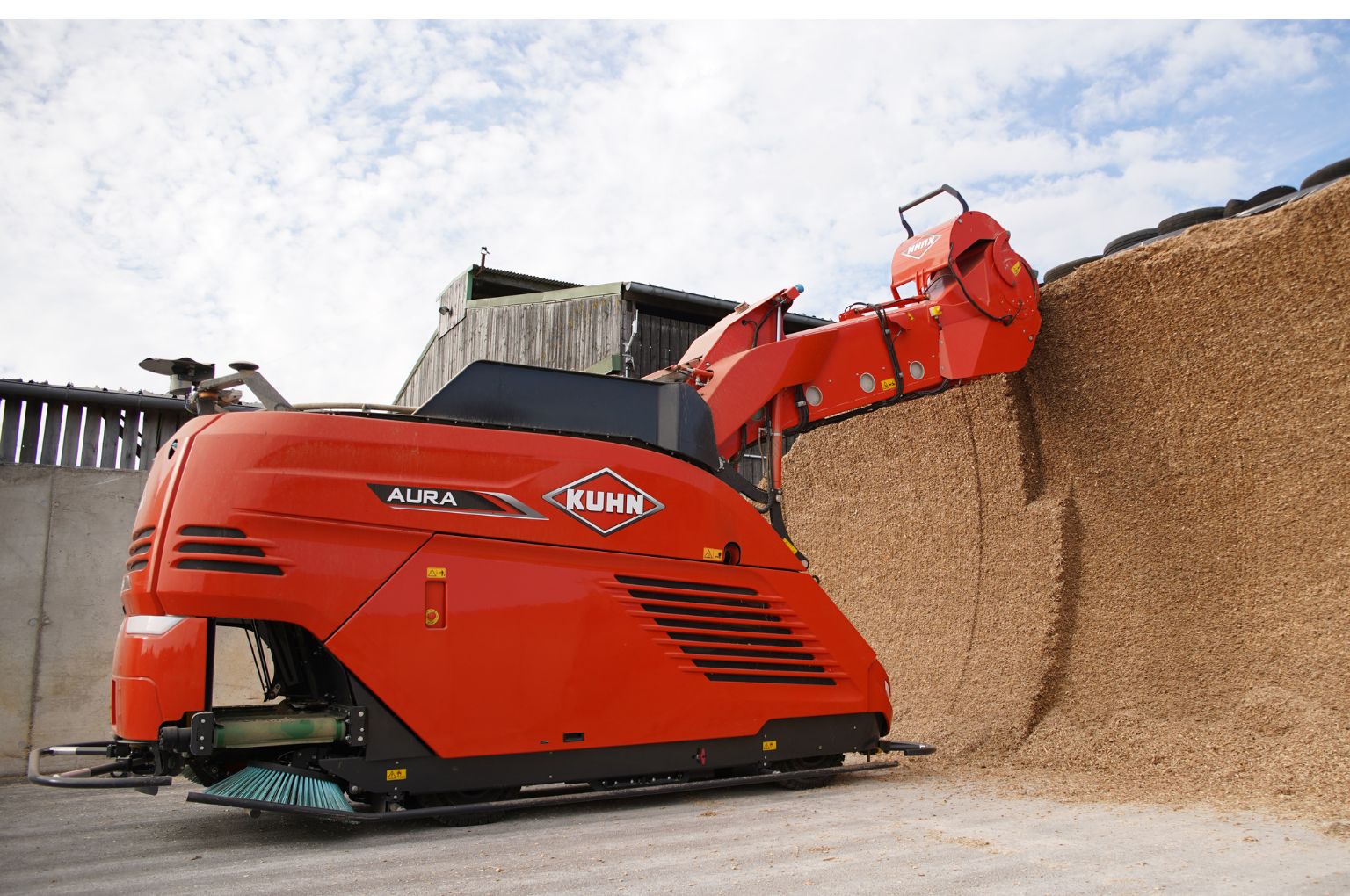 Monday, 23 October 2023
John Deere is continuing to work toward its "Leap Ambitions".  These are the company's focused goals designed to boost economic value and sustainability, while delivering better outcomes with less resources. In this context, the company developed an ethanol engine.
Under the Leap Ambitions, John Deere is wor...
Read more
Saturday, 21 October 2023
Slovenian manufacturer SIP will show a new 10.2m disc mower conditioner combi and two new ranges of twin rotor rakes at Agritechnica next month.Fitting the Disc-HD1000DFS (10.2m) disc mower combi with cross conveyor belts to allow it to mow, condition and merge swaths in one operation, and 515mm of side-shift each side o...
Read more
Friday, 20 October 2023
J Riley Beet Harvesters (UK) has expanded its slurry machinery portfolio with equipment from Bomech, Vogelsang, Kumm-Technik, TBL and Evers.Complimenting the Vervaet self-propelled slurry applicator line-up brought to the UK by J Riley, Dutch manufacturer Bomech makes trailing shoe slurry applicators for mounting on trai...
Read more
Friday, 20 October 2023
As little as possible, as much as necessary. With  "RSD" row-specific nozzle positioning , Dammann reveals a band spraying system which enables environmentally friendly and economical application of crop protection agents. Flexible booms combined with cameras allows the nozzle line to be moved above the row.
W...
Read more
Friday, 20 October 2023
The Magnon 11 is a shorter chop version of the Magnon 10 which was launched in 2019. While the 10 has a total of 48 knives for a 35mm chop, the new 11 has a total of 84 blades for a much shorter 22mm cut.The German maker says that the demand is coming from dairy farms that want a precision harvester short chop, but would...
Read more
Thursday, 19 October 2023
JCB will preview three Loadall telehandlers at Agritechnica. It will also have the all-electric 403E wheeled loader and 4220 iCON and 8330 iCON Fastrac tractors on the stand.The first of the trio of new Dieselmax powered Loadalls is the 560-80 Agri Pro (main picture), a 6.0t max lift, 8.0m max lift height machine powered...
Read more
Thursday, 19 October 2023
Krone and Lemken have developed a solution to simplify road transport of the jointly developed autonomous vehicle.Love them or hate them, autonomous workhorses are starting to make inroads, and while the vehicle developed by Krone and Lemken is still in the test phase, one of the issues potential customers will face if i...
Read more
Wednesday, 18 October 2023
The new IntelliSense option for New Holland's BigBaler range, offers the potential for greater productivity, bale quality, fuel efficiency and operator comfort by automating key baler and tractor functions. Through detecting the swath density and position from the tractor cab, the tractor automatically adjusts steering...
Read more
Wednesday, 18 October 2023
The Advanced Feedrate Control system developed for Case IH Axial-Flow combines has been awarded a Silver Medal in the Innovation Awards, presented by the DLG, organisers of the upcoming Agritechnica ag machinery exhibition. It predicts crop density before it enters into the machine.
In contrast to solutions that al...
Read more
Monday, 16 October 2023
K.U.L.T. Kress' high-precision laser technology is able to control weeds in close proximity to the crop without affecting the soil structure. This can be done at the cotyledon stage to successfully and efficiently prevent competing species from growing without the use of chemical substances.
Optical sensors conti...
Read more
Saturday, 14 October 2023