Trade Shows & Global News
The latest version of the Samson Group's Opti-Sensor provides users with average manure nutrient values.The Danish manufacturer previewed the Opti-Sensor, which uses near-infrared (NIR) sensor technology, at SIMA 2022. Providing real-time measurement and display of dry matter and NPK levels in the muck as it passes in ...
Read more
Yesterday
In the heavy machinery world, every decision counts when it comes to optimizing performance, safety, and operator satisfaction. One seemingly small upgrade that can yield significant advantages is investing in superior work lighting. TYRI, global supplier in lighting technology, brings INTELLilight, a groundbreaking inno...
Read more
Tuesday, 5 December 2023
New Holland is renewing its compact self-propelled BRAUD grape harvester offering. Characterized by new styling, the BRAUD 7.50M, 7.30L and 8.50L models supersede the BRAUD 7030M, 7030L and 8030L, and offer enhanced comfort, capacity, power and productivity thanks to new and updated features.
All machines incorpora...
Read more
Tuesday, 5 December 2023
Joskin has drawn on its 40 years of experience making grassland harrows and developed its first version for arable crops.Called the Bioflex, and previewed at Agritechnica, export manager Jean-Marc Vanempten explains that the development was driven by customers. "Our grass harrow users have seen the benefits and many of...
Read more
Tuesday, 5 December 2023
TurnPath, hands-free steering for automatic, repeatable end-of-row turns, is now available from Ag Leader. The new feature reduces the steps a grower must take when approaching a headland, maximizing his time in the field.
"The combination of things a grower has to think about as he readies to and ultimately make...
Read more
Monday, 4 December 2023
Kubota's integrated agricultural AIs system has been awarded the bronze medal in the SITEVI Innovation Awards. These were presented at the recently held SITEVI trade fair in Montpellier, France. Kubota's AIs system is based on computer vision and Artificial Intelligence (AI) that enables viewing of crops with 3D came...
Read more
Saturday, 2 December 2023
After choosing Volvo Penta as its engine partner in 2015, SILOKING has since celebrated the delivery of its 3000th SelfLine self-propelled feed mixer. Opening up a range of power options, the Volvo Penta D5 and D8 engines also enabled more streamlined machine production and emissions compliance. 
German feed mixer...
Read more
Friday, 1 December 2023
Precision Planting manufactures retrofit solutions in the field of precision farming. The AGCO subsidiary from Tremont, Illinois, USA, helps to increase efficiency and productivity, while promoting sustainable practices. By using latest technologies, data analysis and machine learning, farmers are able to sow more precis...
Read more
Thursday, 30 November 2023
Described as a fast and cost-effective implement to spread straw and chaff evenly across the field ahead of the drill, Opico says that the He-Va Top-Strigle also helps in the battle against slugs and problem grass weeds.Working with the five rows of harrow tines at a slight angle to the combine's direction of travel at...
Read more
Thursday, 30 November 2023
Deutz-Fahr introduces five new 6 TTV Series models with stepless TTV transmissions and 4 and 6 cylinder engines between 161 HP and 192 HP max power.  All models are equipped with continuously variable TTV transmission with 50 km/h option and available in 2 cab versions.
Well known DEUTZ TCD 6.1 and 4.1 engines are...
Read more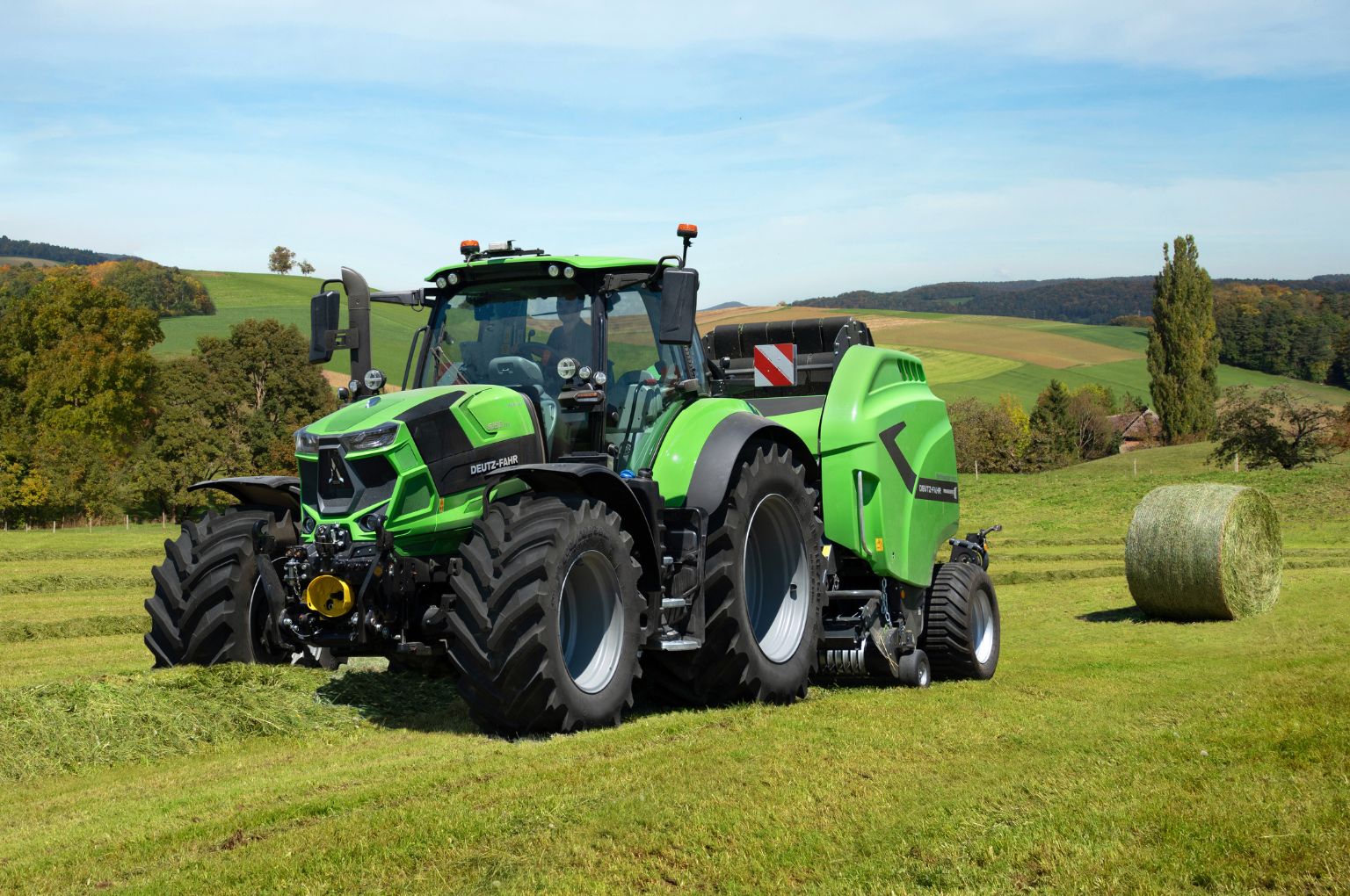 Wednesday, 29 November 2023
Keith Rennie Machinery has expanded its range of mechanical weeding solutions from French manufacturer Carré with an inter-row hoe to control weeds in cereals.Called the Klinea SGI, the function of the two rows of comb harrows at the rear of each parallel linkage mounted hoeing element is to leave weed roots exposed on ...
Read more
Wednesday, 29 November 2023
East Yorkshire-based Grange Machinery has added a 6.0m mounted model to the top end of the Strip-Till Preparator range.Recommended for tractors above 300hp, the new model joins the existing 3.0m (rigid), and 4.0m and 4.5m folding versions. The main difference on the 6.0m width is extra hydraulic adjustment in both the ca...
Read more
Wednesday, 29 November 2023
New Holland introduces the new TE6, TE6.120N and TE6.150N straddle tractor range. These multi-function tractors have been designed specifically for narrow vineyards that require machines with an extreme maneuverability and compact dimensions. The straddle is not a concept model anymore, but market ready.
The new st...
Read more
Tuesday, 28 November 2023
Oxbo has made numerous changes to its second generation trailed merger. Previewed at Agritechnica, the 12.5m working width (1.0m wider than the previous model) is ideally suited to CTF systems.Claimed as the first ISObus merger in Europe, the most visible change on the CM240 is the new frame. Designed in North America, t...
Read more
Tuesday, 28 November 2023
Great Plains is expanding its global soil management solutions, including two new 3m narrow transport implements. Both the HT1110 Terra-Max, for versatility in the hybrid tillage space, and the VT1110 Turbo-Max, built upon the vertical tillage legacy of the original Turbo-Max. Both machines utilize a lengthened frame, 6....
Read more
Monday, 27 November 2023
The wrapped edition of the second generation Enduro was the main attraction on Dewulf's Agritechnica stand. New options on the Gen 2 machine include a more powerful engine and the possibility to lift 4 x 90cm rows.Set to succeed the first version of the four-row self-propelled harvester launched at the end of 2020, the...
Read more
Monday, 27 November 2023
The Italian manufacturer's first electric telehandler was a highlight on Dieci's Agritechnica stand. There were a couple of new diesel machines and a 50km/hr transmission.New diesel-powered handlers included the Stage V version of the revamped T80 Agri Pivot articulated handler. On show for the first time, main updat...
Read more
Friday, 24 November 2023
Massey Ferguson launches the new MF 9S Series, including six models with powers from 285hp to 425hp. All feature the Protec-U design and bring more power, comfort, control and automation. The new large frame MF 9S are all equipped with Dyna-VT transmission as standard and come with host of new features.
The flagshi...
Read more
Thursday, 23 November 2023
The 12.25m semi-mounted model is a new width in the Qualidisc Pro compact disc harrow range. Another big surprise on the Kverneland stand at last week's Agritechnica was the 12m Acardia 20120F tined finger weeder.The Qualidisc is currently available in mounted and semi-mounted widths from 2.0m to 7.0m. Designed to oper...
Read more
Thursday, 23 November 2023
New Holland Agriculture previews the new CR11 combine harvester. It incorporates new technologies that will help drive down the total cost of harvesting for large grain farmers, and increase their bottom-line profitability. The CR11 won a gold medal at the recently held Agritechnica international trade fair.
Thanks...
Read more
Tuesday, 21 November 2023
Dutch firm Gruva was showing its new front dual wheel design that is said to put less strain on the front axle when carrying heavy loads.Sales manager, Toni Dierings points out that on tractors with a castor angle for the steered front wheels can cause extra pressure on the dual wheels so Gruva has developed a system tha...
Read more
Monday, 20 November 2023
Kitting its implements out with the option of ISObus controls is the big news from Hydrac at Agritechnica 2023. This includes the firm's snow ploughs, gritters and the product we were most interested in, its new Smartline front loader.The benefit of utilising ISObus is that the loader controls can be better integrated ...
Read more
Monday, 20 November 2023
The compact dimensions of the two-model John Deere 300M series launched at Agritechnica are said to be perfect for farms with narrow access roads.Deere acquired Italian sprayer manufacturer Mazzotti summer 2017, and the new green and yellow sprayers, which are made in Ravenna, share some of their technology, including th...
Read more
Monday, 20 November 2023
The KUHN KARL carries out work without human intervention. Once the plot has been delimited, the operator creates a work mission, places KARL in the plot, adjusts the work parameters and starts the mission which then runs automatically.
Ultimately, the result is a successful cultivation operation within an optimal ...
Read more
Saturday, 18 November 2023
The 425hp flagship in the new six-model range of 9S tractors is on the Massey Ferguson stand at Agritechnica. The 9S.425 is the most powerful tractor ever made at the French plant in Beauvais.We were not far off the mark with our report earlier in October (see link at bottom), because the new range shares much of its mec...
Read more
Friday, 17 November 2023