Trade Shows & Global News
Lemken has rounded off the top end of the Rubin compact disc harrow range with a 10m model.Using the same symmetrical disc arrangement as smaller models in the range, the Rubin 10/1000 can be hitched via a ball coupling or drawbar eye and hydraulic support is available to make attachment and detachment easier.Working to ...
Read more
Tuesday, 5 September 2023
With the EasyCut B 880 CV/CR (Collect) and B 1050 CV (Collect), Krone presents two new Butterfly combinations. They come with conditioners as a standard feature and can optionally be equipped with cross conveyor units.
Krone has pushed beyond previous limits with its new triple mower combinations of the EasyCut B 8...
Read more
Tuesday, 5 September 2023
The new Case IH Axial-Flow 160 series combine harvester, offers built-in benefits to increase grain production efficiencies. The Axial-Flow 160 series now comes with Harvest Command combine automation technology to take the guesswork out of harvesting.
"We know that every field comes with its own unique set of ch...
Read more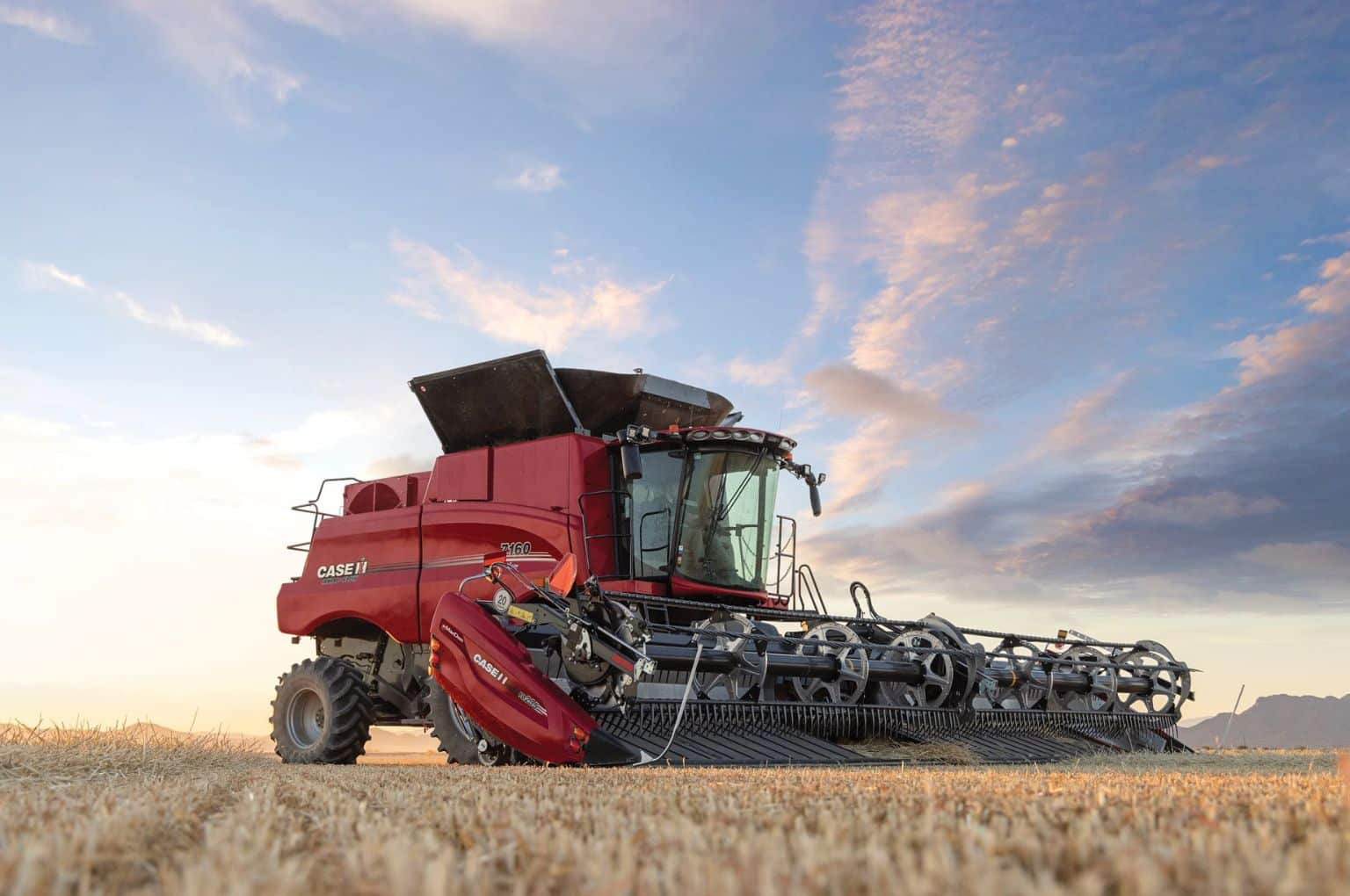 Monday, 4 September 2023
With a working width of up to 9.50m, the Claas Disco 9700 is available in five different versions with tine or roller conditioner and swath merging.Combining Max Cut mower beds with quick knife change and Active Float suspension, new developments include the flow-optimised wear skids. First introduced on the Disco 8500, ...
Read more
Friday, 1 September 2023
John Deere's new 1 Series round balers help farmers ensure optimal moisture levels and consistent bale weights are maintained in every field, in every windrow and with every bale. The 1 Series features Bale Doc technology to document bale moisture and weight in near real time.
These collected data can then flow i...
Read more
Friday, 1 September 2023
Python is the latest generation of AVR's twin conveyor belts. It offers high capacity and is potato-friendly, thanks to features such as moving raised edges. Moreover, the Python is easily transportable and easy to operate.
Fast, product-friendly, flexible and easy to control. All of this makes the Python suited ...
Read more
Thursday, 31 August 2023
The new Case IH Steiger 715 Quadtrac delivers power and speed to cover more ground in less time. The 715 horsepower-rated, 778 peak horsepower engine sets a new bar for performance and challenge in the Steiger lineup.
"The Steiger 715 Quadtrac is not just our most powerful tractor to date, it delivers power with ...
Read more
Thursday, 31 August 2023
If you are looking for a high-capacity trailer that travels at speed on the road then the Krone KX could be of interest.Comprising two lightweight aluminium models, the KX 650 (65m³) and KX 770 (77m³), both are the result of joint development between Krone's commercial vehicle division and its Dutch subsidiary Knapen...
Read more
Wednesday, 30 August 2023
Lemken rounds off the top end of its range of the Rubin compact disc harrows with a ten meters working width model. Despite its large disc diameter of 645 millimeters, the new Rubin has EU-wide road approval for speeds of up to 40 km/h. Like the smaller Rubin 10 models with up to seven meters width, the Rubin 10/1000 is ...
Read more
Wednesday, 30 August 2023
Kuhn does not yet offer a self-propelled sprayer in the UK, but across the Channel the company reckons that the F40 Evo accounts for a leading 30% share of the 300-350 units sold in France each year.Made by French firm Artec, which Kuhn bought in 2018, the F40 Evo was introduced in 2021, and while there are no immediate ...
Read more
Tuesday, 29 August 2023
When matched with a 4.0m front mower, the working width of the EasyCut B1050 CV (Collect), one of two new butterfly mower conditioners, is 10.45m. The second newcomer is the EasyCut B880 CV/ CR (Collect).Both mowers are equipped standard with the EasyCut cutter bar, including integrated impact damage protection. The mowe...
Read more
Monday, 28 August 2023
New Holland introduces its first all-electric utility tractor with autonomous features: the T4 Electric Power. It opens a new class in the market, the Utility Electric, focused on offering solutions for more efficient field operations.
The T4 Electric Power ushers in a new era of modern agriculture. An ideal soluti...
Read more
Monday, 28 August 2023
The CR series combine portfolio from New Holland Agriculture is receiving a refreshed look and feel in the next lineup of 2024 models in North America. Enhancements to the design and functionality of the combines, including new seats, cameras, sensors and technology options, showcase the new CR models for North American ...
Read more
Sunday, 27 August 2023
New advancements are in store for the New Holland T9 model year 2024 with PLM Intelligence (PLMi) tractors. A fresh model update, boosted power, improved efficiency and a revamped cab with modern technology and amplified comfort are all part of the package.
The new T9 with PLMi tractor models for 2024 boast a compr...
Read more
Saturday, 26 August 2023
AGCO introduces the new Massey Ferguson 500R series sprayer in North America. The 500R series sprayers come standard with an advanced chemical distribution system, flexible chassis, maintenance-friendly design elements and more to deliver a cost-effective spraying solution.
"Massey Ferguson keeps the farmer at th...
Read more
Saturday, 26 August 2023
Potato Europe trade fair for the international potato sector, is going to be held in Belgium, this coming September 6-7.  Dewulf will be presenting two major innovations during this year's edition and also demonstrate its full line of potato equipment.
The new Certa 40 Integral will be the main eye-catcher in th...
Read more
Friday, 25 August 2023
Kuhn says that the latest addition to the Optimer stubble cultivator range is ideal for CTF systems. With a working width of 12.5m, the L12500 is the new flagship in the range.The company previewed the L12000 (12.0m) alongside the equally new L9000 (9.0m) at the last Agritechnica in 2019. Visitors to this this year's s...
Read more
Thursday, 24 August 2023
With a maximum working width of 15.70 m, the new Krone Swadro TC 1570 with V-frame concept is closing the gap between the Swadro TC 1370 with four rotors and the Swadro TC 2000 with six rotors. It makes the Swadro TC 1570 a useful addition to the professional rake segment. The machine ensures high acreage output, quiet r...
Read more
Thursday, 24 August 2023
The OptiGrass cutting system is a feature of the latest RX (33 to 40m³) and ZX (43 to 56m³) forage wagons.There are two versions: one with 40 blades (nominal chop length up to 37mm). Chop length of the second (54 blades) is up to 28mm. This is said to be ideal when working in wet silage.The knife bank cassette is hydra...
Read more
Wednesday, 23 August 2023
Homburg Holland has been independently developing smart solutions for precision farming applications such as tool, leveling, and plow control. The company showcases three SmartSOLUTIONS innovations during the upcoming Agritechnica trade fair, this common November in Hanover, Germany.
The first innovation is the ISO...
Read more
Wednesday, 23 August 2023
The Axos 230 (92hp) and 240 (103hp) sit below the current Arion 400 range. The 230 and 240 replace SDF built Atos and are produced by Agritalia. Availability in the UK and Ireland will not be until later next year.The four-pot Stage V FPT 3.6l block in the two newcomers reaches its maximum power at 2000rpm. Fuel tank cap...
Read more
Tuesday, 22 August 2023
With a maximum working width of 15.70m, the Swadro TC1570 four-rotor centre-delivery rake is said to be an ideal fit for CTF systems.Sitting above the existing four-rotor TC1370, the V-frame concept on the newcomer is an adapted version from the six-rotor TC2000. Operated via an ISObus terminal or in combination with an ...
Read more
Monday, 21 August 2023
Creating strips of cultivated soil ready for planting row crops, the 3000 series is the first powered strip till cultivator from KRM.Joining the Carré Inro non-powered machines, the Strip-Till 3000 is made by Italian firm Falc. There are two models: the four-row 3000/750/4 (750mm centres for maize) and six-row 3000/500/...
Read more
Friday, 18 August 2023
Kuhn offers a mounted tedder with a 13m working width: the GF 13003 model. This tedder is an effective compromise between the compact design of a 3-point mounted machine and a 13m working width, with 12 rotors! Its design and features make it suitable for use with medium-powered tractors.
The GF 13003 mounted tedde...
Read more
Wednesday, 16 August 2023
The Exos, a fully autonomous vehicle for harvesting and feeding fresh grass, will be commercially available to Dutch dairy farms from the middle of next year.Taking around 10 years to develop, the company first spoke about the vehicle in October 2020. Extensively tested on 13 Dutch farms, Lely says that these will be joi...
Read more
Tuesday, 15 August 2023